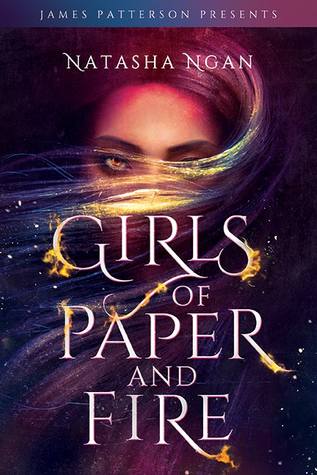 ASIN: B079RCLL3D
Title: Girls of Paper and Fire
Series: Girls of Paper and Fire, #1
Author: Natasha Ngan
Publisher: Jimmy Patterson Books
Publishing Date: November 6th, 2018
Format: ebook
Pages: 400
Genre: YA Fantasy
Purchase at: Indiebound | Amazon | Barnes & Noble
Synopsis: Each year, eight beautiful girls are chosen as Paper Girls to serve the king. It's the highest honor they could hope for…and the most cruel.
But this year, there's a ninth girl. And instead of paper, she's made of fire.
In this lush fantasy, Lei is a member of the Paper caste, the lowest and most oppressed class in Ikhara. She lives in a remote village with her father, where the decade-old trauma of watching her mother snatched by royal guards still haunts her. Now, the guards are back, and this time it's Lei they're after–the girl whose golden eyes have piqued the king's interest.
Over weeks of training in the opulent but stifling palace, Lei and eight other girls learn the skills and charm that befit being a king's consort. But Lei isn't content to watch her fate consume her. Instead, she does the unthinkable–she falls in love. Her forbidden romance becomes enmeshed with an explosive plot that threatens the very foundation of Ikhara, and Lei, still the wide-eyed country girl at heart, must decide just how far she's willing to go for justice and revenge.
T/CW: sexual assault, deaths, rape, human and animal violence, grief, animal death, slut-shaming
CREATIVE, FRESH CONCEPT, IMPORTANT TOPICS BUT… PRETTY USED PLOT
Girls of Paper and Fire first caught my interest because of its fresh, creative, enticing concept. Humans, half humans half animals, demons, royalties, magic, and shamans, altogether? Accompanied by the Malaysian inspirations? HECK YES. It's a fresh combination, mainly because of the half animal creatures for me and I loved it.
However, the plot is not fresh. It's pretty generic. A poor girl forced to have a life in the palace she didn't want? Where she have to forcefully do things to survive the life in court? Then she finds love and plans to escape? I am just glad that this book tackles important real-life issues and showcases Malaysian culture, because it would be hard for this to stand out if it weren't for those.
Another great aspect of this book is the important real-life problems it brought to a fantasy setting, in which they were tackled with sensitivity and thoughtfulness. Slavery, sex, sexual preferences, oppression, objectification, rape culture, sexual assault and abuse were tackled. I love how this book was able to tackle abusers having different faces. Giving the right message that abusers can appear charming and the kindest for others, but that doesn't make them less of the evil abusers that they truly are. An abuser is an abuser. And that's the end of it.
Further, what I love most is how Girls of Paper of Fire focuses on the victims of rape and sexual assault and its survivors not the rapist, not the predator. It is our story. It shows us how differently each of us survivors deal with it and survive it, while saying that we can all still help and find love in the arms of each other in the process of healing,
I LIKE THE MAIN CHARACTER LESS, BUT THAT'S ON ME
I love the set of characters. Each of the Paper Girls are with unique personality. You wouldn't confuse one with the other. However, Lei, the main character failed to capture my heart. I didn't connect with her. I didn't dislike her but I just cannot say that I actually like her either. At first, she was okay for me, but I didn't begin to like her as the time goes by. I think I will at least like her if she's not usually in a rush in making decisions and taking actions. I like the fighter that she have become but I get irritated when she acts without thinking and waste the only chance by doing so.
I liked Wren more than Lei. When I think of Wren, I think of balance between strength and love, between responsibility, duty and feelings. I adore her so much. The strength, the focus. Unlike Lei, she knows how to think and plan before doing dangerous things. But I acknowledge that their different upbringing was a factor and they're just simply two different persons. I just want to point that it's not the main character who I fell for.
There are also other characters who stood out for me which are Zelle, Aoki, Kenzo and Mistres Eira.
SAPPHIC ROMANCE I DIDN'T KNOW I HAVE BEEN CRAVING FOR
The romance between Lei and Wren is one of the biggest reasons why I enjoyed this book. THAT.IS.WHAT.I.HAVE.BEEN.CRAVING.FOR. There is a strong connection between the two of them. It all just happened naturally. Like it's one of the most natural things in the world. And their love is one of the purest. They made my heart go so soft. I didn't know I have been craving for a love like that until I met Lei and Wren.
LUSH, UNBELIEVABLY BEAUTIFUL AND STRONG WORLD-BUILDING
The world-building swept me off my feet. It's one of the strongest points of the book. The setting is very Asian. Like very very Asian, I could cry. The setting, it remind me so much of historical K-Dramas – there's a particular K-Drama that always comes to mind while reading, and I couldn't get enough. From their clothes, to their foods, to the places, everything was in detail, and those details most of the time left me in awe. Though, I was not completely drawn into its world, I still really appreciate the visuals all those descriptions planted in my mind. How the half human half animal creatures were described was also good. I can personally felt the challenge of having to think of how to combine both in one body and Ngan definitely did more than fine.
UNMET EXPECTATIONS
This took the 1 star away. My interest was not gripped immediately. This is mostly dull from the very beginning (except for that triggering part which actually made me feel bad) – I became bored and just picked up another book instead – until it reached 25% . Sometimes, it also feels underwhelming. I also expected more show from the shamans and the magic they promised. Sure, they appear every now and then, but only to prepare, to repair, to conceal, or reveal things. I was just not satisfied. Also, the villain, the King, is just okay for me simply because he's just plain evil to the bones. There is nothing special with him. He's just okay, which, I hoped, he wasn't. I also expected that the queen will play a part in the story, though by the looks of it, we might probably hear from her on the 2nd installment.
WILL I READ THE NEXT INSTALLMENT?
I definitely will! I love the ending, although the last plot twist was so predictable. The end promises an epic journey to be witnessed on the next installment and I am actually quite nervous! I am also looking forward for Lei's character development, more political intrigue and hopefully a beautiful conclusion.
OVERALL
Girls of Paper and Fire did not wholly disappoint. It is a Malaysian-influenced fantasy book tackling slavery, oppression, objectification, sexual assault, rape, and abuse, introducing different girls with a fight to win, featuring strong, lush world-building and melting hearts by the romance I didn't know I have been craving for.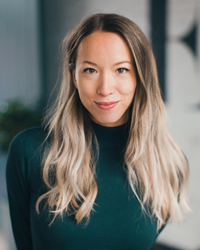 Natasha Ngan is a writer and yoga teacher. She grew up between Malaysia, where the Chinese side of her family is from, and the UK. This multicultural upbringing continues to influence her writing, and she is passionate about bringing diverse stories to teens. Natasha studied Geography at the University of Cambridge before working as a social media consultant and fashion blogger.
She recently moved to Paris, where she likes to imagine she drifts stylishly from brasserie to brasserie, notepad in one hand, wineglass in the other. In reality, she spends most of her time getting lost on the metro and confusing locals with her French.
She is represented by Taylor Haggerty at Root Literary. Her YA novels THE ELITES and THE MEMORY KEEPERS are out now from Hot Key Books, and GIRLS OF PAPER AND FIRE will be published in November 2018 by Little Brown.
Find her on: Website | Twitter
Have you read Girls of Paper and Fire? Did you like the characters? Will you read the next installment? What is your favorite fantasy book with influence of Asia or any Asian countries? What is your favorite book with sapphic romance? Share your thoughts below!