ASIN: B06XRCBRX8
Title: Jade City
Series: The Green Bone Sage, #1
Author: Fonda Lee
Publisher: Orbit
Publishing Date: June 26th 2018
Format: ebook
Pages: 560
Age Category & Genre: Adult, Urban Fantasy
Purchase at: Amazon | Barnes and Noble | Indiebound
Synopsis:
Jade is the lifeblood of the island of Kekon. It has been mined, traded, stolen, and killed for — and for centuries, honorable Green Bone warriors like the Kaul family have used it to enhance their magical abilities and defend the island from foreign invasion.
Now, the war is over and a new generation of Kauls vies for control of Kekon's bustling capital city. They care about nothing but protecting their own, cornering the jade market, and defending the districts under their protection. Ancient tradition has little place in this rapidly changing nation.
When a powerful new drug emerges that lets anyone — even foreigners — wield jade, the simmering tension between the Kauls and the rival Ayt family erupts into open violence. The outcome of this clan war will determine the fate of all Green Bones — from their grandest patriarch to the lowliest motorcycle runner on the streets — and of Kekon itself.
Jade City is the first novel in an epic trilogy about family, honor, and those who live and die by the ancient laws of blood and jade.
Guess what now, chums? I am officially a member of the No Peak Clan!
CLAN WAR, POLITICS, ECONOMICS, MARTIAL ART, JUST THE PERFECT MIX
Jade City focuses on the Kaul family – the head family of the No Peak Clan, and their rivalry with the other major clan in the city of Janloon, the Mountain. In Jade City, jade is power and power is jade. And these clans fight over territory, money, and jade.
I unexpectedly connected so much with this book in a way probably different than most. Part of this book tackles business, trade, production, distribution and selling of jade, and black markets which played a crucial role in war, their lives, their nation as a whole – and mirrors reality. Jade City is the only fantasy book I've read so far that really satisfied my want for Economics to be incorporated in a book. I always wanted to think of strategies and analyze with fictional characters – which Jade City allowed me to do.  I felt myself being transported back to my Economics classes in the university. I can even imagine my professors nodding in agreement or shaking their head at what the Pillars, especially Ayt Mada, and the Weather Man were doing.
Martial art was also incorporated and Jade City's fighting scenes were certainly bloody, intense and heart-hammering. That being said, expect lots of angst, tension, danger, and blood in this book.
But beyond clan wars, power and wealth, Jade City is also about family, brotherhood, loss, love and honor. And how they were all blended together was perfect.
ASIAN-INSPIRED WORLD-BUILDING WHERE JADE IS POWER, I WANT IN
Fonda Lee created a highly-imaginative, unique, strong, and intricate world-building. It's stunning, vivid and I got so much Chinese vibes from it. It reminded me so much of those Asian mafia and martial art movies. Though it took me some time, once I was finally immersed in it, my surrounding vanished.
Kekon is the only source of Jade in this world. Hence, they have the most control over its supply. So, other nations import from them. I loved the international politics and economics of it all. Religion and history were also well established parts of the story. And I also love their names. They were hard for me to memorize at first but most of them sounds like a mix of different Asian names which contributed to Jade City's uniqueness.
CHARACTERS THAT HAD ME CHEERING, WEEPING, AND FUMING
I had a bit of a hard time connecting with the characters on the start, but I reached the epilogue with me having already sworn my allegiance to the No Peak Clan and with me being willing to defend the Kauls until my last breath. Throw me in the city of Janloon, and I will lay my life for the clan.
The characters are unique, realistic and complex as well as their relationships with one other which I loved most. My favorite characters are Lan, Hilo, Shae and Wen but I also love Anden and Maik Khen and Tar. I even developed a crush on some of them (I can't even remember the last time this happened!). Hilo's the boyfriend that I like, being in my 20s. But Lan, surely, is the husband that I want when I reach my 30s. I saw parts of me in Shae, and she inspire me to become a better version of myself. While I look forward for more from Wen, she's amazing and I know there's still so much more from her.
Even the antagonists were as fleshed out as the protagonists. Such an excellent set of characters!
I WAS PREVENTED FROM GIVING IT 5/5
Sometimes I felt distant or disconnected with the characters and what was happening due to the writing that I felt like I was watching a movie instead of being inside the movie.
Some plot points were also predictable. While it didn't immensely affect my reading experience, I think it's worth noting.
I know it's just a matter of personal experience because before picking this up, I just finished an excellent high fantasy book with extremely good fighting scenes and jaw-dropping martial arts techniques that it had set the bar higher for me when it comes to fighting scenes. Given that this also incorporated martial arts, I expected the same. Jade City's fighting scenes were really good. However, among the many fighting scenes in this book, it's only in the last main one where I actually saw what I have been expecting – the really impressive maneuvers and techniques on the fighting scenes. I'm no expert in martial arts, it's just that there are moves that I've already seen before, and moves that I haven't even thought about seeing or existing before.
OVERALL
The praise for Jade City is well-deserved. With its intricate world-building, angst and tension in every corner, characters you'll learn to love, despise and root for, game of politics and economics, heart-hammering fighting scenes, I was so right to pick this up!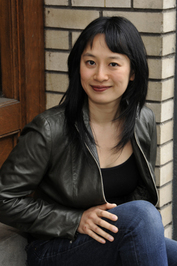 Fonda Lee is an author of science fiction and fantasy novels for adults and teens. Her fantasy trilogy, the Green Bone Saga, begins with Jade City, which won the 2018 World Fantasy Award for Best Novel, was a finalist for the Nebula and Locus Awards, and was named a Best Book of 2017 by NPR, Barnes & Noble, Powell's Books, Syfy Wire, and the Verge. Her young adult science fiction novels, Zeroboxer, Exo, and Cross Fire, have garnered accolades including being named Junior Library Guild Selections and Andre Norton Award finalists. Fonda won the Aurora Award, Canada's national science fiction and fantasy award, twice in the same year for Best Novel and Best YA Novel. Fonda is a recovering corporate strategist, black belt martial artist, and action movie aficionado living in Portland, Oregon.
Find her here: Website | Facebook | Twitter
Have you read Jade City? How was it? What are your favorite Asian-inspired books about gangs and martial arts? How about your favorite urban fantasy? Share your thoughts below!