ASIN: 0316440922
Title: Jade War
Series: The Green Bone Sage, #2
Author: Fonda Lee
Publisher: Orbit
Publishing Date: June 23rd 2019
Format: Paperback
Pages: 608
Age Category & Genre: Adult, Urban Fantasy
Purchase at: Amazon | Barnes and Noble| Audible | Indiebound
Synopsis: In Jade War, the sequel to the World Fantasy Award-winning novel Jade City, the Kaul siblings battle rival clans for honor and control over an Asia-inspired fantasy metropolis.
On the island of Kekon, the Kaul family is locked in a violent feud for control of the capital city and the supply of magical jade that endows trained Green Bone warriors with supernatural powers they alone have possessed for hundreds of years.
Beyond Kekon's borders, war is brewing. Powerful foreign governments and mercenary criminal kingpins alike turn their eyes on the island nation. Jade, Kekon's most prized resource, could make them rich – or give them the edge they'd need to topple their rivals.
Faced with threats on all sides, the Kaul family is forced to form new and dangerous alliances, confront enemies in the darkest streets and the tallest office towers, and put honor aside in order to do whatever it takes to ensure their own survival – and that of all the Green Bones of Kekon.
Jade War is the second book of the Green Bone Saga, an epic trilogy about family, honor, and those who live and die by the ancient laws of blood and jade.
**A huge thanks to Shealea @ Shut Up, Shealea for hosting and letting me be a part of the blog tour for Jade War by Fonda Lee and to Orbit for providing us all a finished copy! These, by any means, did not affect nor influence my review.**
I have read Jade City few days before reading Jade War and was really impressed by it. After Jade City, I was almost certain that Fonda Lee has a lot more to offer and I was just right. Jade War is everything I have expected and so much more.
Jade City Improved in Every Aspects, If You Can Imagine
If you've read my Jade City review, then you'll know that one of the things I really loved in Jade City was how Fonda Lee incorporated Economics in that book – as well as politics, but Economics is closer to my heart given my educational background.
In Jade War, Lee dove into economic and political matters, as well as military, in a much deeper way. The geographical scope in this book is wider. The story is not just focused and set in Kekon and its matters and conflicts. Matters regarding international economics, politics, and military issues were given more emphasis and were made more complex compared to Jade City's. Giving the author, the characters, and me more stress and headache but it's still something I still highly appreciate. Some scenes were set in different countries including Espenia and Uwiwa Islands – which led to me being more impressed of Fonda Lee's skills when it comes to world-building.
The characterization was done excellently. The characters were faced with more challenges and Lee used it to show who they truly are. New characters were also introduced. I really missed the Kauls and loved seeing them again. Hilo is improving as a Pillar, being the great leader that he is, being more understanding and just trying his best to keep everything in the clan together. Wen is always saying the right thing and proving that there's so much more into her as expected from Jade City and making me love her more, Shae is making me SO DANG PROUD AND INSPIRED (because that's mah gurl!!!) and amazed by how intelligent and strong she is as a person and businesswoman and Anden is making me proud of the independence and growth he's showing.
There are more heart-hammering, brutal and excellently written fighting scenes in Jade War compared to Jade City that are mostly unexpected and made me both nervous and energized.
The Green Bone saga remains beautifully diverse but I think there's more thoughtfulness put in Jade War. There's a monkey trained to help the disabled, people do mistakes and learn about other cultures, tackling culture sensitivity and diasporic experiences, socio-economic status differences of people from different countries were also showed.
No Room for Complaint, But More Room for Fear
I couldn't even complain about anything unlike in the first installment. Going back to Janloon, being together with my clan, traveling to some other parts of this world, it felt like I was included in the story. Not making me feel like an outsider anymore. It was also unpredictable. I really liked the plot. And the fighting scenes were much impressive and brilliantly executed.
Fonda Lee is just a QUEEN. I love her so much for blessing us all with these characters and this world. And all I have is fear for my heart and soul for the next installment.
OVERALL
FONDA LEE STEPPED UP HER GAME IN JADE WAR. I enjoyed every bits of Jade War, there's nothing for me to complain about. It's definitely one of my best reads for the year so far. Everything was excellently well done from the world-building to the characterization to the fighting scenes to the plot to the lessons it teaches through the characters' experiences – everything. Fonda Lee is my new queen when it comes to adult fantasy and writing fighting scenes along side R.F. Kuang and M.L. Wang.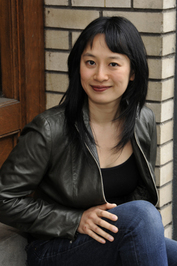 Fonda Lee is an author of science fiction and fantasy novels for adults and teens. Her fantasy trilogy, the Green Bone Saga, begins with Jade City, which won the 2018 World Fantasy Award for Best Novel, was a finalist for the Nebula and Locus Awards, and was named a Best Book of 2017 by NPR, Barnes & Noble, Powell's Books, Syfy Wire, and the Verge. Her young adult science fiction novels, Zeroboxer, Exo, and Cross Fire, have garnered accolades including being named Junior Library Guild Selections and Andre Norton Award finalists. Fonda won the Aurora Award, Canada's national science fiction and fantasy award, twice in the same year for Best Novel and Best YA Novel. Fonda is a recovering corporate strategist, black belt martial artist, and action movie aficionado living in Portland, Oregon.
Find her here: Website | Facebook | Twitter
TOUR SCHEDULE
Today's the last day of the tour organized by the ever hardworking Shealea @ Shut Up, Shealea. Be sure to check all the other stops and their amazing contents!
Have you read Jade War? How was it? Which sequels do you think are better then their first installment? What's your latest 5-star read? Share your thoughts below!