Agust D is back, y'all. AGUST D is back.
(I started drafting this on the same day as the release day of D-2. It's been almost a month. But yeah, we still have to start this way. 🤣)
For those who are not familiar, Agust D and SUGA are the stage names of 28-year old (in Korean age) Korean rapper, songwriter and producer, Min Yoongi. SUGA is his stage name as a member of the South Korean boy-band BTS, while Agust D, that is derived from DT (which stands for Daegu Town, his hometown) and SUGA spelled backwards, is his stage name as a solo artist. In 2016, he released his first solo self-titled mixtape. And four years later, on May 22, 2020, he released his second mixtape entitled D-2.
I have really high respect for Min Yoongi. He is one of my favorite artists in general and I am so grateful that his music reached me. I am constantly in awe of the music he creates, the lyrics he writes, and how he uses music to express himself and tell his story unapologetically. Agust D (together with RM) even influenced me to express myself by writing lyrics of my own. And it's been really helpful, as I find it to be therapeutic and I love being able to discover a new way of writing to express myself.
His second mixtape D-2 just made me admire and respect him even more. I just love this artist and his music so much. And I couldn't shut up about it.
So… to celebrate D-2's release, I am here to share some of my favorite lyrics from Agust D's mixtapes, Agust D and D-2! 
I wouldn't explain why they are my favorites, but if you want to know more about the meanings behind his lyrics and for context, you can read some annotations on Genius (Agust D, D-2).
***Please note that the majority of Agust D's songs are written in Korean. The lyrics below are English-translated versions and I used Genius and LyricsKpop.Net as references. Some of these translations may not be that precise. A lot of the translated versions on the internet have different word choices so I chose to stick with these two sources for consistency.
A to the G to the U to STD

I'm D boy because I'm from D

I'm the crazy guy, the lunatic on beat

Sending listeners to Hong Kong with my rap

My tongue technology

– "Agust D" from Agust D

(Yes, Agust D released a mixtape entitled Agust D which includes a song also entitled Agust D 😉)
Practicing at night and part timing early morning

Dragging my exhausted body to school

I end up sleeping

I turn 20

And the scene of our graduation hall is crap

Those ass****s who gamble all night?

They're here in their foreign brand cars

Well that makes me quite jealous, envious

-"724148" from Agust D
Ok ok ok watch closely

Leave your doubtful comments about whether I'd debut

Watch me after a year ass****, look at what I'll be doing

You would see me on TV and then decide to contact me

-"724148" from Agust D
My trainee life was 100 out of 100

But sociophobia develops and my human relations is 0

I always prepare two masks

Hiding my true self

Behind the defensive image

-"140513 At Dawn" from Agust D
Pretending not to be lonely, pretending not to be in pain

Pointlessly pretending to be okay

Pointlessly pretending to be strong

Don't climb over the wall I've built in front of me

I'm the island in this vast ocean, don't abandon me

-"140513 At Dawn" from Agust D
On the other side of the famous idol rapper

Stands my weak self, it's a bit dangerous

Depression, OCD

They keep coming back again from time to time

Hell no perhaps that might be my true self

-"The Last", Agust D
The doctor asks me if I've (censored)

I answered without any hesitation that I have

-"The Last", Agust D
That time I, that time I

I thought success would make everything fine

But you see, but you see

As time goes by, I feel like I'm turning into a monster

-"The Last", Agust D
I've exchanged my youth for success

And that monster demands for more wealth

At times it puts a collar on my neck

To ruin and swallow me with greed

Some try to shut my mouth and say

I should swallow this forbidden fruit

I don't want it

They want me to leave this garden

-"The Last" from Agust D
My fans, keep your head high with pride

Because who can do it like me uh

-"The Last" from Agust D
I know, feel like ha Tony Montana

Success and happiness look alike but they're different

But I want a bigger success

More wealth and bigger honor

I want the money to chase me but I hope

I don't become the monster chasing only money

-"Tony Montana" from Agust D
It's really a b**** to not have something you want to do

I know that it seems pathetic

To not have a dream like everyone

"Everything's going to be alright if you go to university

And do as we tell you"

I'm the as**ole for believing those words

I'm living because I can't die

-"So Far Away" from Agust D
Everyone is running but why am I the only one still here?

Everyone is running but why am I the only one still here?

Everyone is running but why am I the only one still here?

-"So Far Away" from Agust D
Dream, I will be there for your creation

Until the end of your life

Dream, wherever you might be

It will be lenient

Dream, you will fully bloom

After all the hardships

Dream, your beginnings will seem humble

So prosperous will your future be

-"So Far Away" from Agust D
That's right, f***, I live because I can't die

But I don't have anything I want to do

I'm in so much pain and loneliness but people around me

Keep telling me to regain my consciousness

I try to vent my anger but I only got myself

So what's the point of venting my anger

I'm scared to open my eyes everyday and start breathing

-"So Far Away" from Agust D
The beginnings were humble, Daegu, yeah, from a basement in Namsandong

To a penthouse in Hannam the Hill now, ha

The Peter Pan who still cannot wake up from his dream

In my head, the reality fights with the ideal tirelessly

My biggest enemy is the anger inside me

The more dreadful is the battle with the laziness inside me

-"Moonlight" from D-2
Sometimes I resent God, asking why he made me live a life like this

What I'm doing, and if I love music at all

Sometimes I ask myself again, 'if it's possible to go back

Will you go back?' Well, I'll have to think more about that

-"Moonlight" from D-2
Sometimes I feel like I'm a genius

Sometimes I feel like I have no talent

Sometimes songs write themselves like crazy, but then

When I'm stuck, I'm stuck like there's no way out, yeah, right now

I wrote verse 1 f***ing fast

But can't make verse 2 no matter how hard I rack my brain

It probably would be the same for life, all or nothing

There's no parallel anyway, it's a matter of choice

There would be no eternity for anything

-"Moonlight" from D-2
Flexing, I got none, I don't need one

Who's the king, who's the boss?

You all know my name

-"Daechwita" from D-2
Revenues keep going up-up-up-up-up-up and up

Everyday, Bang PD goes dance-dance-dance-dance-dance-dance-dance

-"Daechwita" from D-2
I got everything I wanted, what more will make me feel contented?

I wanted clothes, clothes, then money, money, then goals, goals, now what's next?

Yeah, what's next? Here comes my reality check, there's nowhere higher

I only looked up and now I want to look down and put my feet on the ground

-"Daechwita" from D-2
The ten zeros in my bank account, that money is the collateral for my youth

I got a big house big car big ring, bring anything over, I'll give it to you, my black card

-"What do you think?" from D-2
The choices you've been given

Are all preferences controlled by the capital

People talk

'My feed explains me'

No matter how much money is in your grasp

Everyone's a slave to this system

-"Strange" from D-2
I grow old, and

Learn about the world

Even so, could it have been better if I knew nothing of the world

-"28" from D-2
I am breathing but

Seems like my heart is broken

Yeah, now I've become an adult who finds it hard to grasp my dream

And that's growing up

-"28" from D-2
Thought I would change after I turn twenty

Thought I would change after I graduate

Sh**, after I turn thirty like that

Yeah, then what would change

-"28" from D-2
Sometimes I would burst into tears for no reason

The life I'd hoped for, the life I'd wanted, just that kind of life

I don't care now how it turns out anymore

Living, living, living

Without worries for just a day

Without concerns for just a day

-"28" from D-2
Am I being pressured to passion

-"Burn It" from D-2
Whether it'd become the blazing sun

Or cinders that remain

Anytime, the choice and decision is yours to make

I hope you don't forget that giving up decisively also counts as courage

-"Burn It" from D-2
Yeah yeah, a gentle breeze

People that brush past

People that soaks into heart

What kind of person am I?

-"People" from D-2
I flow the way water flows

-"People" from D-2
Me the whole day of May 22, 2020 because Agust D is back: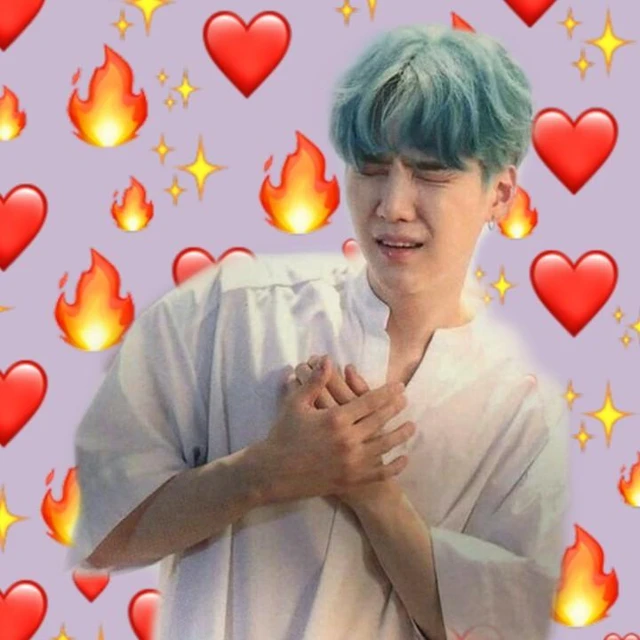 Have you listened to Agust D? What do you think? Do you know BTS?

(pun intended, if u know what I mean

😎

)

Who are the artists you connect to the most? Share some of your favorite lyrics with me? Let's chat below!